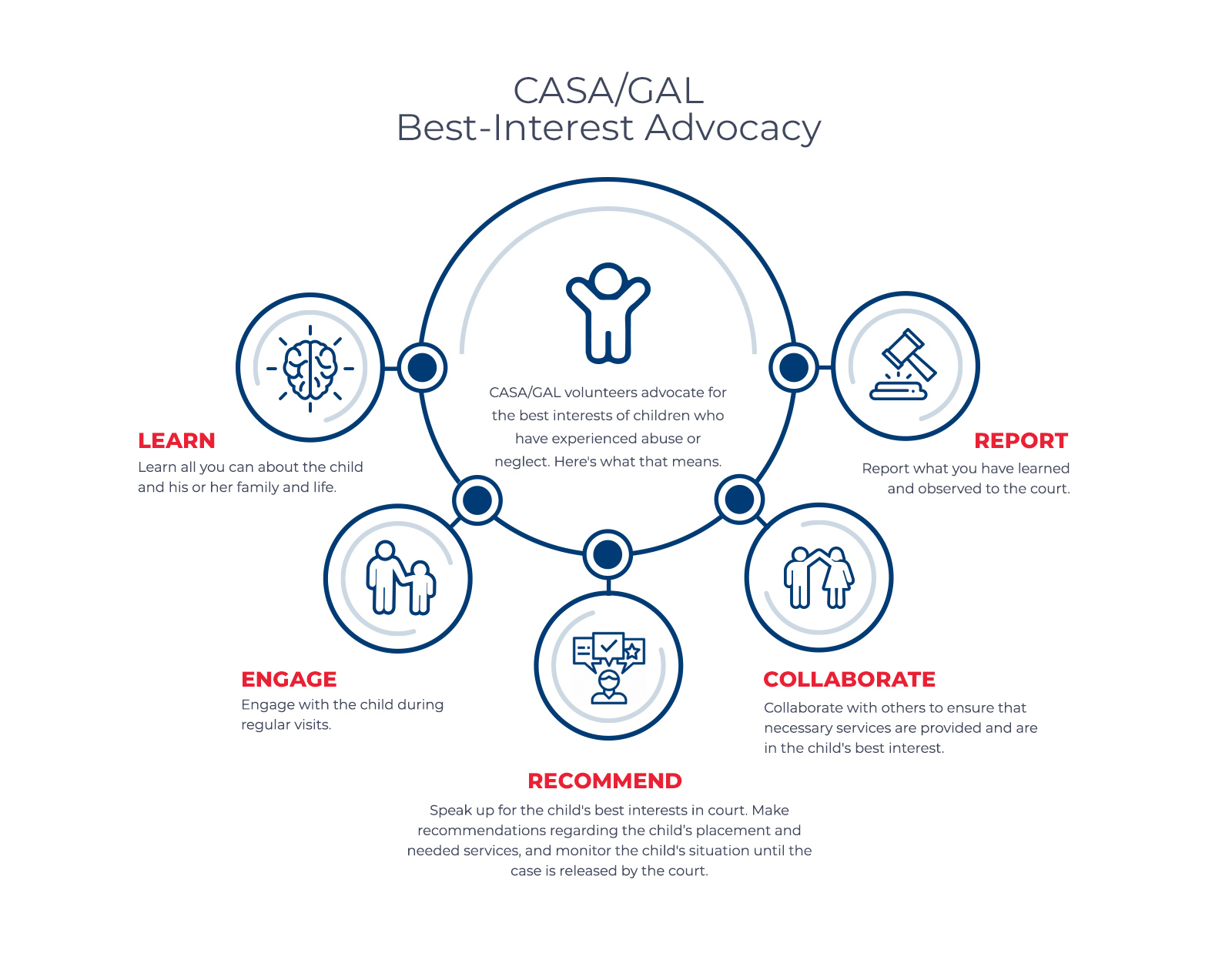 What does a court appointed special advocate do?
When the Court appoints a CASA volunteer to work with a child, weekly visits are just the beginning. The primary role of a Court Appointed Special Advocate is to:
Learn the needs of the child by reading the child's welfare file, connecting with teachers, foster parents, social workers, doctors, mental health professionals, relatives, parents, attorneys– everyone involved in the child's life throughout the case.
Engage with the child during visits
Recommend social services and community resources to meet the needs of the child.
Advocate for the child's needs to be met promptly and thoroughly. Write thorough, accurate court reports.
Collaborate to ensure team members follow through on meeting the child's needs.
Be a trusted support for the child. In the sea of ever-changing faces, the CASA volunteer is the one person the child knows will keep coming back – each and every week.
No other program combines regular mentoring and preventive services with the comprehensive advocacy that influences decisions directly affecting the child's future.
Who are court appointed special advocates?
CASA volunteers are everyday people that are committed to making a difference. They come from all walks of life and are truly some our community's most impressive adults. More than half are employed, 10% are students, 20% are retired. Many have children of their own. The majority of volunteers are between 40 and 60 years old but our current volunteers range in age from 21 to 82. See our page of frequently asked questions for potential CASA volunteers.
Requirements For Becoming A CASA
An applicant must:
Be at least 21 years of age
Commit to seeing the child 2-4 hours a week for up to two years. Every child's case varies in length and at times a case may require additional hours of the Advocate's time.
Have no felony convictions
Not have abused alcohol or any other substance within the last 5 years.
Not use illegal drugs
Have a valid driver's license and car insurance, if the applicant drives
Not be on probation or parole
Not have any serious physical or mental health concerns that could affect the applicant's ability to volunteer.
Any applicant found to have been convicted of, or to have current charges pending for a felony or misdemeanor involving a sex offense, child abuse, or child neglect will not be accepted as a CASA volunteer.
If an applicant is found to have committed a misdemeanor or felony that is unrelated to, or would not pose a risk to children and would not negatively impact the credibility of the CASA program, the CASA program will consider the extent of the rehabilitation since the misdemeanor or felony was committed as well as other factors that may influence the decision to accept the applicant as a CASA volunteer.
Become A CASA Volunteer Today!
Are you interested in making a big impact on a child's life?
Contact us today to find out how.